NEW Titanium Fidget Plus New Stock On Website
A bunch of exciting things for you today...
First up, this is the first official blog post I've done since re-doing the website the other day (yeah, I know, the website was a bit of a mess).
Oh, before we dive right in:
If you look around the website right now, then you'll see we sell fidget-related products. If you're a very long term customer you'll know this is a recent thing. I've designed, made and sold over 70+ different products (mostly all in titanium) over the 7 or so years in business. Only in the last year have I focused almost entirely on fidget sliders.
I'm still getting asked all the time for many of the previous products we used to make (pens, tweezers, etc.). The only one I'm currently still making is our over-the-top-popular SlideClick™ - Titanium Utility Blade Knife.
So, yeah, even though this is essentially the first blog post ...I used to do them weekly in the past covering NEW products, new prototype, behind-the-scenes stuff, and so on.

NEW Fidget Design (about to launch)

This is called the Rocker™:
The video above should give you a decent idea of how the Rocker™ can be used (although, as with most fidgets I make, people seem to figure out different ways of using them I had not thought of).
Truthfully, I do expect the Rocker™ to be reasonably popular. As of right now I have a couple of dozen ready to go - but I'd like to make more than that before I release them.
Oh, and while I remember...
I am aiming not to do any pre-orders any more. While it is good for many of you (it guarantees you get one of my products) ...they ultimately ends up causing a lot of problems on our side (manufacturing issues we didn't expect, order changes which take a lot of time, etc. etc.).
Here's what you need to know:
-- I will send out another email when I know the release date/time (hopefully will do a countdown for them)
-- Initially I will offer Titanium bodies only (Zirconium bodies at a later date)
-- Both Teflon and Zirconium plates will be available

More Sliders Just Added To Website

I'm trying to not be SOLD OUT of everything all the time - but it is an ongoing challenge.
Definitely getting better though.
A few minutes ago I added more sliders to the website. This included Titanium Toads, Titanium and Zirconium Peaks, Grenades ...and a few other sliders.
>>> CLICK HERE to Check Out What Is In Stock Right Now <<<

I know I keep going on and on ...and on ...and on ...about not being able to keep sliders in stock on the website.
Well, for the geeks among you, I thought I'd show you what's going to help us get past that.
I invested in new "Tombstones" (yes, this is actually what they're called) for our milling machine. This is a vertical-standing, solid chunk of aluminium -- with eight sides -- that I affectionately call the "Octagon". We have two of them.

Our CNC fixtures bolt onto these ...and then the "blanks", that ultimately get machined into sliders, then attached to those.
You know, I'm probably not explaining it very well - here's a couple of photos... :-)
Some Ripples sliders getting made on the Octagon: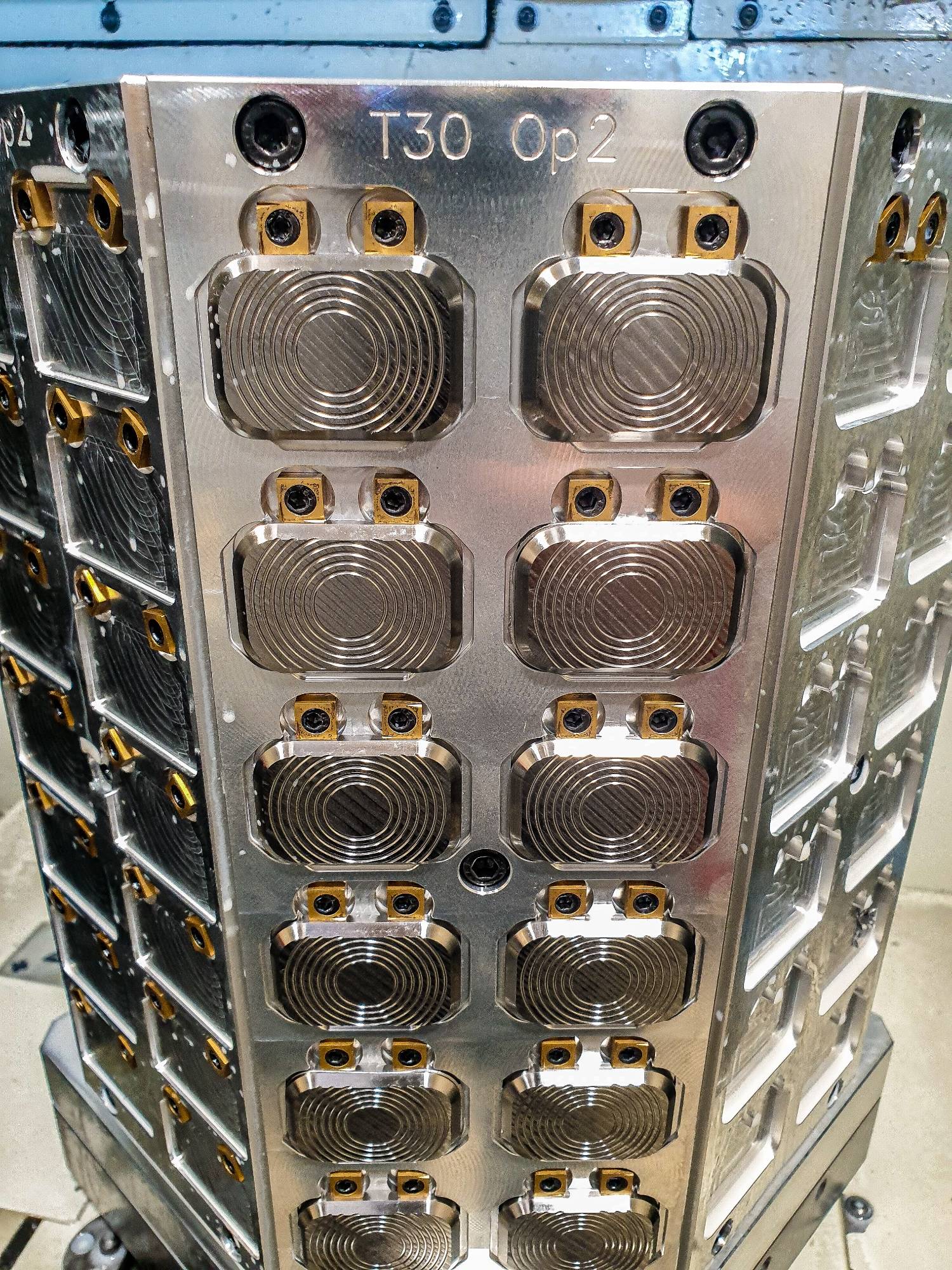 Some Zirconium Plates for the NEW Rocker™ slider getting made on the Octagon: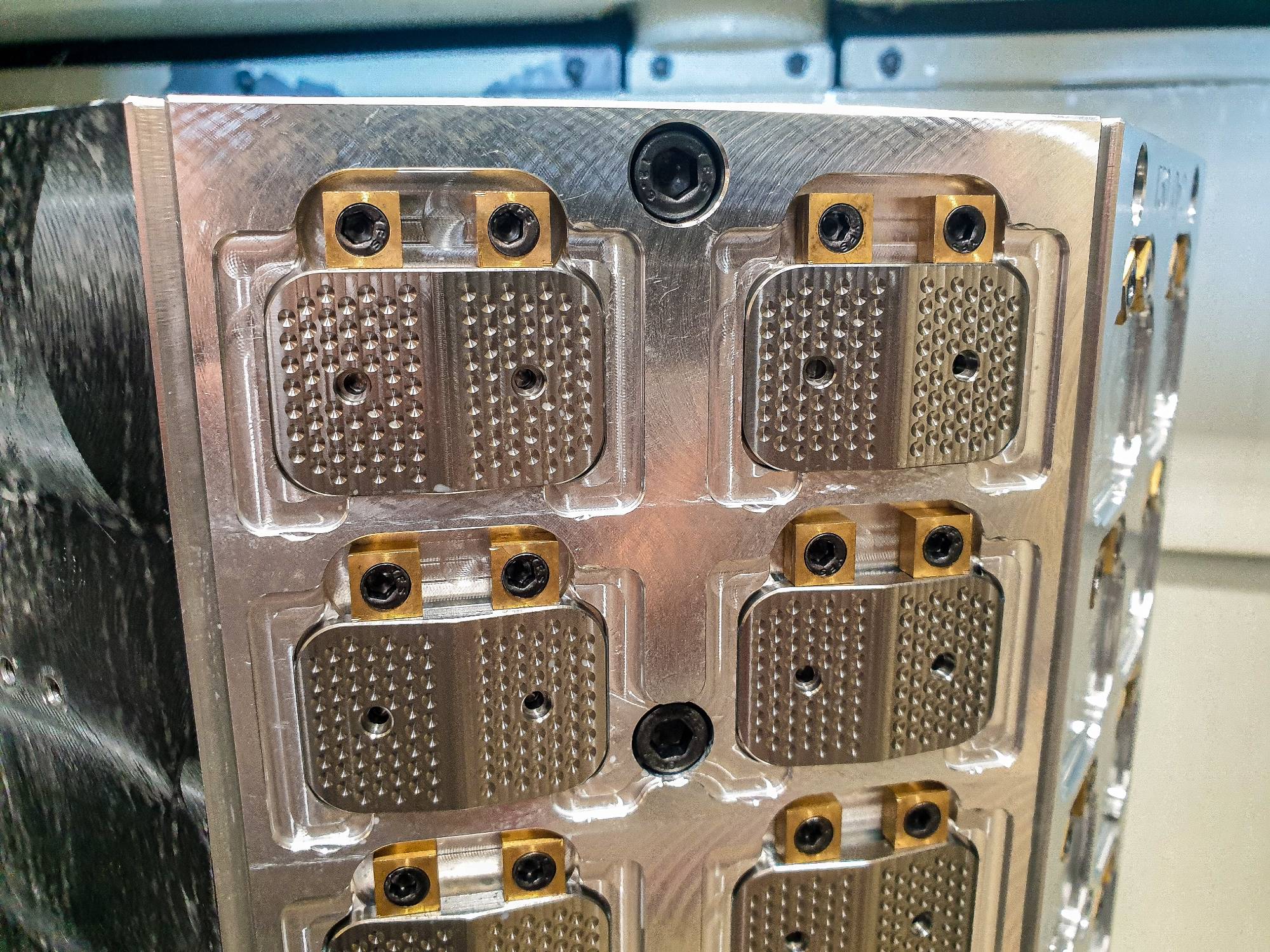 These Octagons allow us to run the CNC longer and more reliably ...and, therefore, hopefully more consistent sliders in stock! :-)